"One cannot think well, love well, sleep well,
if one has not dined well."


Virginia Woolf
We love good food. End of story.
So rest assured we will make lots of it accessible throughout the day.
While most of our meals will be pay-as-you-go, we recommend purchasing your
Brunch tickets in advance (all details below):
BREAKFAST
Each morning, there will be a complimentary array of fresh fruit, oatmeal, coffee and tea. We're keeping it simple and light so you can get your morning practice on.
SMOOTHIE BAR
Our smoothie bar will be open throughout the day, whipping up and blending some amazing superfood smoothies and snacks to keep you feeling good.
BRUNCH
We'll be fed by Casa Om's own head chef, Yayo Eduardo Gomez, who runs a full gourmet vegetarian kitchen. Think Mexican, Thai, New American, and Lebanese food options. All dishes are prepared with a healthy yogic lifestyle in mind. We offer gluten free and vegan options as well.
We recommend getting Brunch Tickets in advance: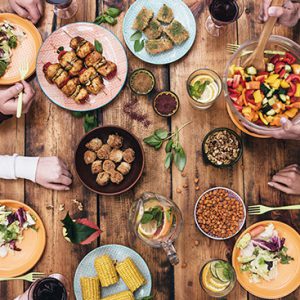 VEGAN TACO TRUCK
Known locally as Tacos Veganos del Puerto, we'll have fresh-to-order tacos right outside the door. These guys will be here throughout the day, so you can have a vegan taco whenever your heart (or appetite) desires it.
DINNER
Come dinner time, we'll break bread together at the local restaurant La Sirena. The Chef will create a different menu for us each night, and every dinner will be hosted by different teachers.