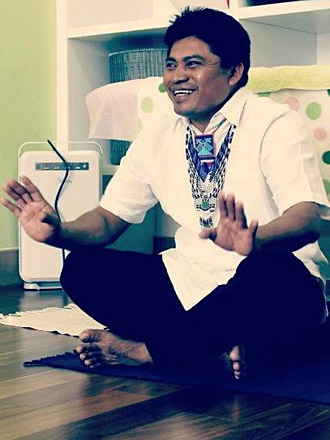 Avelino is an energy channeler, this is a wonderful legacy by his grandfathers .. Mayan healers, their particular therapy is through the information they receive through the universe.
When he enters into conscious medicine, he does it through the vibration of people, he connects, touching his head, which is where our thoughts come from and from there arise all our blockages
The sensitivity in your hands and the knowledge you have of the physical body, gives you the ability to recognize that part of the body is energetically blocked, contracted or injured, the types of blockage that can have the body are:
Energetic, spiritual, emotional, and physical
Once detected what type of block has the patient we can enter into the conscious medicine and unblock it.
If it is an energetic block, the pendulum tool is used for the alignment of the chakras and imposition of hands to re connect with the universe, if it is spiritual through essential oils, spiritual cleansing with tobacco and medicinal plants, when it is emotional, through Chamanic songs, mantras and prayers, physical, through acupressure, digipresion, masoterapia.