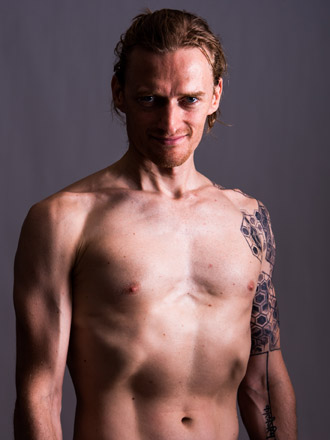 Q+A with Zeb
Where are you based out of? town + studio? 
Pittsburgh, Pennsylvania (not to be confused with Transylvania… that's where my evil twin lives)
When + where did you first stumble into hot yoga?
My first hot yoga class ever was in 2005, in NYC on the Upper West Side… it was summer in New York and super hot and sweaty… and the studio was even hotter!  I didn't practice again for a while!
Do you remember your first class? Did someone bring you or did you venture out on your own? 
A co-worker took me.  He was really into it and thought I would like it.  I thought he was crazy.
What made you go to teacher training? 
My second attempt didn't come 'till 2007 after I had moved to San Francisco.  I connected with it instantly then and knew I'd be doing this for a while.  I wanted to know more, I loved it!  So, I went to teacher training

8 months later

.
What's your favorite thing about teaching? 
I love watching people grow in their practice and I'm constantly amazed by how determined and strong we become practicing hot yoga.
What's the funniest thing that's ever happened to you while you were practicing?  
A student once brought in a whole cooler-bag with cool towels, snacks, and even a fan!  She had it all figured out!
If money wasn't an issue, what would you spend the next year of your life doing?
Building a yoga compound (with a beach nearby) where we could all go and practice together!  (I know, it sounds a lot like One Fire Mexico!)
What is the name of the class/classses/workshops you'll be teaching at One Fire? Tell us what they're about. Level 2 (Intermediate Class)- Blends the traditional 26&2 with the ghosh 84 (Advanced Class) to create a foundation in some of the more challenging postures of the Ghosh tradition and give students something to challenge them and strive for!
Hip Opening Workshop- Tight hips? You and everyone else! (Especially if you spend lots of time balancing on one leg!)  Take matters into your own hands. Discover how to go deeper into your practice with this hip opening workshop led by
Zeb

.

BIO
Yoga is for everyone. It is a science developed to maintain and help heal the human body and mind. A Pittsburgh native, Zeb studied yoga all over the world. After his intensive, nine week teacher training with Bikram Choudhury in Honolulu, Hawaii, Zeb set out to travel and bring the gift of yoga, of health, to as many people and places as possible. From the beaches of Mexico, all throughout the United States, Australia, and Southeast Asia, each new place has put him in touch with wonderful new cultures, new students, and new teachers.Zeb is the 2014 National and International Champion. Zeb placed in the top four of the USA Yoga National Finals from 2008 to 2014.Bringing with him a deep knowledge of yoga technique, Zeb also has an extensive background in dance, physical theater, mask work, and the performing arts, holding a BFA in Theater Arts from the University of the Arts in Philadelphia.