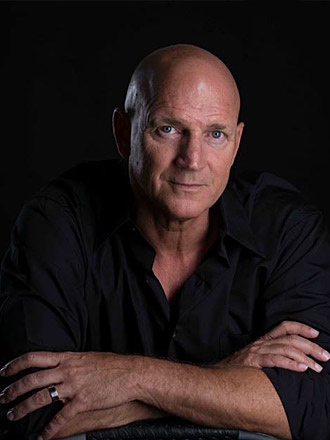 Q+A with Jimmy
Where are you based out of? town + studio? 

Fort Lauderdale & Boca Raton
When + where did you first stumble into hot yoga? 
Back in 1980 with Bikram in Beverly Hills.
Do you remember your first class? Did someone bring you or did you venture out on your own? 
I remember…I believe Emily was standing right next to me…and Bikram said I was a woman in my last 5 life times!
Mmm. How about that. What made you go to teacher training?  Bikram
What's your favorite thing about teaching? 
Getting people to reach the next level in their practice and their lives!
What's the funniest thing that's ever happened to you while you were practicing? teaching? 
Once I said touch your forehead to your chin!! 

And people still took you seriously after that? Do you have other (non-hot yoga) passions? 
I am a big band singer/entertainer
If money wasn't an issue, what would you spend the next year of your life doing? 
The same …teaching yoga, holding hot yoga teacher trainings during the day and singing at night
What is the name of the class/classses/workshops you'll be teaching at One Fire? Tell us what they're about. 
Barkan Method Hot Yoga: 
Our yoga room is heated to allow for a deeper release and to avoid injury. The Hot Yoga class is recommended for everyone, from first day beginners to advanced students. The magic of this class is that everyone is practicing the same posture at different levels of ability, receiving the same benefits. There is an exact position for everyone at every level, which our trained instructors will help you find. 
Postures practiced in The Barkan Method maintain a basic format offering structure and continuity similar to Bikram Yoga. However, various sections of the class change from day to day according to the area of the body the teacher chooses to target. For example, one day during the floor section of the class we may feature backbends, another day hip openers, and another day leg stretches. 
Barkan Method Hot Vinyasa: 
This class incorporates Asanas from our lineage into a "Vinyasa" (continuous flow) style. Hot Vinyasa is a vigorous class, combining upper body strength, flexibility and cardio and is designed for students of all levels (beginner friendly) seeking a challenge.
History: 
A discussion on the history of Yoga and some misnomers and misinterpretations of words, for example: Hatha, Ashtanga, Kundalini, Jivamukti. And the evolution of Hot Yoga
BIO
 Jimmy Barkan is a master yoga teacher certified by Ghosh's College of India, Calcutta, India in 1981. He is considered to be one of the pioneers of yoga in the United States, practicing long before yoga became popular and mainstream. Jimmy began his yoga career under the guidance and wisdom of Bikram Choudhury and was honored when he became known as Bikram's Most Senior Teacher, an accomplishment very few have since obtained. Jimmy's first yoga studio opened in Fort Lauderdale, Florida in January 1983, making it one of the first Bikram Yoga schools in the world. Jimmy opened Yoga schools in Plantation, Florida in 2001 and Boca Raton Florida in 2012.