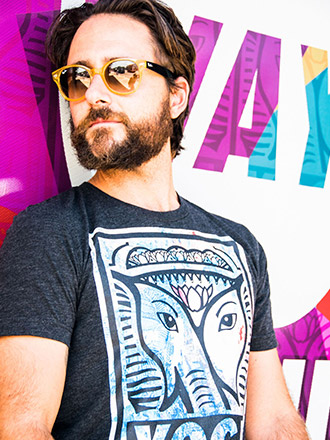 -Where are you based out of? town + studio?
We are based out of beautiful Ormond Beach on the east coast of Florida. My wife Erika and I created We Are Yoga Ormond Beach aka WAYstudio1.
-When + where did you first stumble into hot yoga?
I wonder how many people say this, but my mom invited me to a hot yoga class back in my college days. Circa 2003.
-Do you remember your first class?
Did someone bring you or did you venture out on your own? I remember my first class; it kept going and going and going and going! Like I said, my mom thought I would dig it so she brought me along. She was really into it, already doing 30-day challenges before I knew what that even meant! I remember being super hungry after that class and then going for bagels. It was the best bagel I have ever had. It wasn't until 2 years later when I moved to Los Angeles that I reconnected with hot yoga in Studio City, CA.
-What made you go to teacher training?
This is going to sound redundant, but I never really thought of going to teacher training until my mom said I should do it two years later. While I was living in LA, working and going to school, I needed a mini game changer so I decided to go. During week two of training, I met my future wife. We just celebrated our 5th wedding anniversary! We have a 4 year old and twins on the WAY. Yes Twins! lol. You could say teacher training has worked out really well for me!
-What's your favorite thing(s) about teaching? My favorite thing about teaching is finding my voice and sharing my WAY with the students. Its only after so many years of teaching, almost 10 years now, that I can really just be comfortable in my own skin and confident in my abilities. There is nothing cooler or more vulnerable then sharing yourself with a group of other people. The experience is too hard to describe sometimes
-What's the funniest thing that's ever happened to you while you were practicing? teaching?
After a year of wearing Calvin Klein sporty mesh underwear to class, I finally noticed my white ass in the mirror while upside down in separate leg stretching. Lets just say those were retired real quick!
-Do you have other (non-hot yoga) passions?
Of course! Besides having fun with friends and family, I enjoy creating, branding, designing, innovating new ideas, games, products, and more. We created the WAYmat, Battle Asana, WAYcation and other fun ways to balance your yoga life with your other passions. I love anything with music, food, festivals, travel, and collaborations with likeminded people!
-If money wasn't an issue, what would you spend the next year of your life doing?
Finding WAYS to get my entire family and crew to every event we do in the future so everyone can be there to enjoy it and have fun. I thrive in the group and my family, friends, and team members are the perfect crowd to keep the energy up!
-What is the name of the class/classes/workshops you'll be teaching at One Fire?
Tell us what they're about. I will be hosting the world famous Battle Asana event where yogis will face off in a fun and friendly game of Y-O-G-A. It is similar to the game HORSE in basketball. Players trade turns setting and landing yoga asanas (postures). It is super inspiring and a blast to be a part of!
You might also get a taste of my WAYhappy class, which is patent pending… just kidding! But it is one of my favorite creations. WAYhappy is the "Do what makes you happy" of Hot Yoga classes. Based on following a scientific approach to the postures, some awesome but never over the top music in the background, and a balance of teaching and practicing with the class, it is a class for everyone. Its not the 60 minute version of anything, its what I always imagined what hot yoga can be; fun, challenging, and beneficial to students of all ages and skill level. It gets me excited just thinking about it  "Stay Happy My Friends!" #WAYhappy