Listening + Allowing (an interview with Craig Villani)
Posted on
October 22, 2018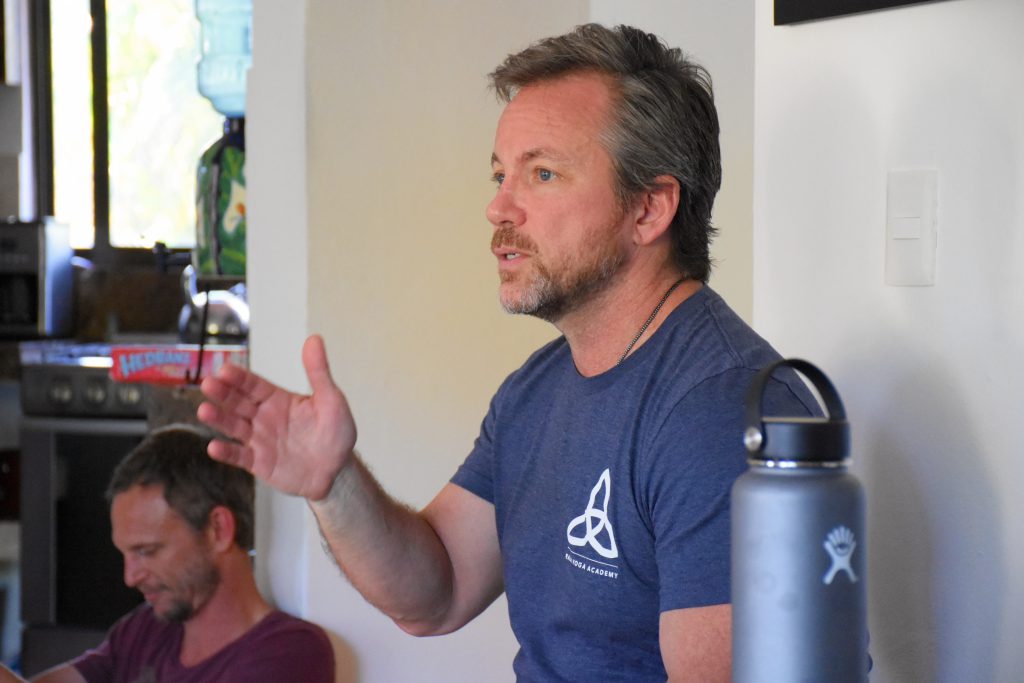 Craig Villani is a charismatic and funny guy. He's got an incredible talent for weaving anecdotes and stories into his lectures and teachings. Born and raised in New Jersey, he's now based out of LA and travels frequently for his Raja Yoga Teacher Trainings. We recently caught up with him to talk about leadership, listening, and allowing.
We're pretty stoked you're teaching again at One Fire this year. Aside from teaching the traditional 26+2 class, you'll be leading a workshop called Connect with Your Heart, Lead by Example, Show Up and Breathe. Tell us the inspiration behind it.
I really love and respect the community I've grown with, and also want to continue to  expand beyond one modality and idea. For me, yoga will always be a foundational approach to realize lasting transformation. Being grounded in the physical through the practice of hatha yoga gives us powerful tools for building beautiful lives. 
People really need practical stuff. I'm driven to seek out and share the most effective tools and ideas that can enable us to expand our awareness and find greater meaning in life. To help people help themselves lead more enjoyable, happier lives.
Like so many people I meet, I've encountered an endless array of complex breathing techniques, leadership strategies, and mindfulness models. Wading through all of this stuff can mess with your head, so I tend to work with common threads and attempt to distill these things down to their practical essence. Basically, I share what works for me. 
What would you say is the simplest practical tool people can use?
The simplest and most profound is breath. It's something that's worthy of our focus and attention. 
And beyond breathing?
Allowing. Truly being open, connecting with your heart. Learning to allow, and practicing how to allow, whether it's thoughts, feelings, physical tension, or life circumstances. It's the practice of giving ability to flow, which for me, helps to dissolve my deep-rooted habit of trying to control everything.
Do tell more.
I've been a student of Tibetan Buddhism for some time. The seed idea of those teachings is that attachment is the root of all suffering. I personally never connected with the word attachment. Not too long ago, I heard something that really hit home: expectation is the root of all suffering. 
For most of my life, I've been focusing my attention on the "what ifs", in order to project safe outcomes. Now, I find the practice of allowing lands me in this moment as opposed to some illusion of future. By being present in this moment and connecting, the moment unfolds, and there is no future to control. 
When a judgment or fear about a potential what if comes up, I hold space for that feeling, allow it, and really look at it. 
Thing is, I'm beginning to realize that tension and stress do not exist as a pure experience of feeling; they arise from our thoughts and judgements about the experience.
There's an actual technique I've learned and been using lately called, wait for it- Letting Go. Very grounded and practical, and highly effective. I've been sharing it with my post-graduate students and RYA faculty.
What does your personal practice of allowing look like?
Wherever I am, whatever I'm doing, I begin with a breath. A full inhale flowing into a relaxed, passive exhale. This slow breath allows me to access the parasympathetic response, which settles me into my body, and into the moment. Often, I use the word allow as a mantra. Tension dissipates and I'm left feeling more free, more awake, and a lot more chill. 
As a practice, I observe where I'm placing my mind. Or often, where mind is placing me. The most challenging and rewarding context is within the yoga room. And with family. And driving in LA traffic.
Since I rarely teach on the freeway or act in the capacity of family counsellor, I usually guide others through this process of training the mind during yoga class, and pretty much through every aspect of our RYA teacher training programs. 
What would you say is one of the most important things about leadership?
Listening. It's the primary quality of leadership. Holding space for ourselves and each other starts with really hearing the other person, instead of just waiting for our turn to talk. It's not about having to be right, or smart, or in charge. 
One of the most important components of effective facilitation is inquiry- asking the other person questions so they can find their own path and discover, for themselves, how to resolve latent patterns and expand their awareness. I'm getting better at it.
I also teach a process I've developed called pattern recognition that I feel helps us become more aware of the destructive habits that impede connection and growth. I've personally gotten a lot of mileage out of it. 
How do you think these aspects of practice- listening, allowing and breathing, are relevant to the world we live in today?
One of the most apparent symptoms of our current human malady is divisiveness, which, as you know, is the antithesis of yoga. Yoga means connection, union, balance, and integration. 
What's happening in the world is an updated version of the same old divide and conquer subroutine in the egoic domination and control program. Corrupted power taps into belief to activate fear, focusing anger to intensify aggression toward some faceless, fearful other. Isolated, terrified, blinded with hatred and possessed by rage, good people become trapped in the intense suffering of self-imposed separation. 
Which generally sucks.
Being present, or what I like to call showing up, is holding space for this moment and all that this moment allows. If we can do that, we judge less, we fear less, we hurt less, and we love more. This is the real center of it all, and what I aspire to model for my students.
Breath is the doorway to allowing and receiving. When we receive, we leave the door open. Stepping through, we can begin to see each other for what we all truly are- connected. When we connect, we communicate with our hearts to allow for the real potential of healing our world. 
When we listen, we can hear, When we look, we can see. By allowing, we can understand.
All we need to do is show up and breathe.
Interview by Mishel Ixchel
Photo by Salih Satki Mehmedic