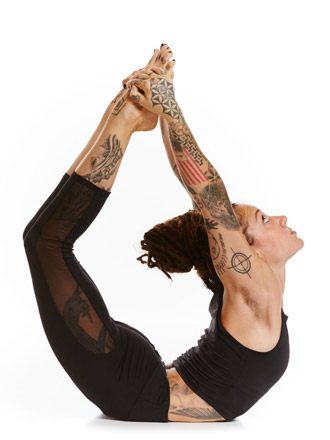 Q+A with GIANNA
Hey Gianna, tell us: where are you based out of?
I am based out of Arizona and own the global school, Siddhi School of Yoga and run teacher trainings for 105F Hot Yoga TT.
Rad. When + where did you first stumble into hot yoga?
I started Hot Yoga in 2007 in Chicago
Do you remember your first class? Did someone bring you or did you venture out on your own?
I ventured into my first class on recommendation from a client who had been hearing about my joint pain for too long. With a coworker, we ventured into our first class where we showed up late. So we thought. We showed up late and we're told to return for the next class time. Mistakenly, we went for food and returned a few hours later. Showing up in karate pants and a head scarf, I remember very little from that first class. After, I felt all the feelings you could possibly feel and decided to come back the next day.
Oh yeah. All the feelings you could possibly feel. What made you go to teacher training?
After working 10 hour work days doing hair and feeling no gratification from my life, I decided to go to teacher training. I stopped relating to the life I thought I wanted. My priorities changed.
Sweet. What's your favorite thing about teaching?
My favorite thing about teaching yoga is holding space for students to have their practice and journey to self realization. I use to love teaching because it made me feel more "me" but I had not yet realized what that meant. Securing the room for a students joys and struggles is such intense practice of the present moment that one can't possibly feel anything but elated. It's a blessed bliss.
What's the funniest thing that's ever happened to you while you were practicing? teaching?
Oh I love this question! While practicing the things I think to be so funny would never be funny if I explained them to anyone else but…I do remember exchanging quite a few laughs when yogi queen Afton and I began practicing and memorizing the ashtanga primary series together. We would have some good laughs over my lack of memorization skills while we practices our morning Mysore in Austin.
The funniest thing to happen to me while teaching was me hearing someone make a noise to the left of me, over the microphone asking what that person said, then giggles following because that noise was a fart. Farts are always funny.
Oh the funny things that happen… Do you have other (non-hot yoga) passions?
I practice other non heated yogas that fuel and inspire my hot practice and hot yoga teaching. I'm a devoted ashtangi and bhakti yogi.
Aside from yoga passions, I am a musician which was the first time I felt the sensation of passion as a child, I love travel, i am passionate about riding motorcycles and supporting and encouraging other women to ride. And animals. I am passionate about loving, squeezing, and caring for animals.
 Amazing. Now, if money wasn't an issue, what would you spend the next year of your life doing?
If money wasn't an issue I would spend the next year of my life doing what I am doing right now(it's currently June as I write this). Studying in India, learning Sanskrit, riding motorcycles through the Himalayas, and teaching along the way.
What is the name of the class/classses/workshops you'll be teaching at One Fire? Tell us what they're about.
The classes I'll be teaching at OneFire will be an intermediate series asana class covering postures and steps necessary to begin furthering ones asana study and working towards mastery of the classic 84 advanced series. A playful Bikram's beginning class. A bandhas and Bikram class which looks closely and the locks necessary to establish alignment which leads to depth. I'll lead a hot vinyasa class which takes practitioners through endurance building, armbalance strengthening, hip flexibility, core stability, and mind body awareness. And possibly more!?
ABOUT GIANNA
Aching with back and joint pain, Gianna followed a friend's recommendation and took her first yoga class to end her sedentary living. After just a few weeks of practice, her pain dropped; within a year, she was off all medications; at two years she began advanced asana training; and by year three she certified as a teacher. Thirsty to know, she went full time studying, teaching and practicing the 26 + 2 series, Ashtanga yoga, theory, philosophy, and anatomy. She sees more clearly by the light of her teachers: Mary Jarvis, Emmy Cleaves, Saraswathi Jois, and Leslie Kaminoff. Gianna is a Bikram certified teacher, a 500-hour Yoga alliance certified teacher, and teaches meditation, yin and ashtanga/vinyasa in addition to the 26+2 and classic 84 asana series.
You can find Gianna internationally for workshops and trainings under her Siddhi School of Yoga and often in Arizona and Chicagoland area.