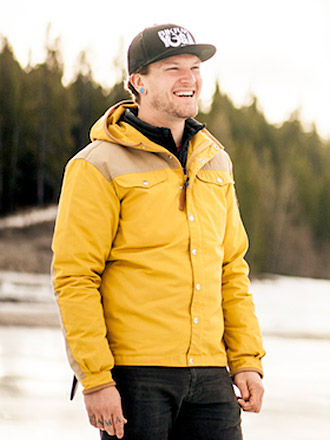 Q+A with Josh
Where are you based out of? town + studio? 
Haha we live in our Earthroamer, so wherever you meet us is where we're currently living.
When + where did you first stumble into hot yoga?
Bikram Yoga Victoria in 2009
Do you remember your first class? Did someone bring you or did you venture out on your own?
My previous yoga experiences were not that awesome. The thought of adding heat seemed insane. So I only agreed to go with Jenna (my wife) on a day that I happened to forget my shorts. She said we should run to Lululemon to buy a pair. I only agreed because I was sure there was no chance that we would make it downtown to buy shorts and back to the studio on foot in time for the last class of the day. I've never seen Jenna run so fast. Most of class was a blur. What I do remember is that Jenna sold me out and made me practice on the opposite side of the room! To help the situation, the teacher made sure to point out not only that I was new, but that my wife refused to practice beside me. It wasn't until the end of class that I realized 2 things: 1) I was laying in savasana the opposite direction of everyone else in class and 2) the good looking uber fit yoga teacher was actually 65 years old!
What made you go to teacher training?
My son. Although I thought I might go one day, Jenna and I were moving to Columbia, so I thought it would happen years in the future. But when we found out she was pregnant, and I imagined telling my mother in law that her first grandchild was going to live in a different hemisphere, we decided to speed up our plans to open a yoga studio instead. I thought: Jenna probably won't want to teach ALL the classes pregnant and/or breastfeeding, so I'd better go to teacher training. I literally showed up the day it was starting with only a backpack containing a change of clothes, a toothbrush, and a money order to pay for training. Luckily they let me in!
What's your favorite thing(s) about teaching?
Getting to talk for 90 minutes without interruption. But seriously, seeing people change for the better in ways neither they nor I expected.
What's the funniest thing that's ever happened to you while you were practicing? teaching?
Fart.
Do you have other (non-hot yoga) passions?
I try to just be passionate about life. Right now I'm the most passionate about yoga business, entrepreneurship, alternative living, overland traveling, and I love downhill biking.
If money wasn't an issue, what would you spend the next year of your life doing?
Already doing it. Money is only an issue if you make it one.
What is the name of the class/classses/workshops you'll be teaching at One Fire? Tell us what they're about.
We'll be running a continuing education class for traditional hot yoga teachers. I'll also be doing a lecture called "Hot Yoga Business: Best Practices for Selling Yoga Passes." Managing and owning yoga studios, training sales staff, and traveling full time and business coaching at yoga studios has allowed us to experience a wide variety of how the yoga industry operates. The challenges of running a yoga business or being a yogapreneur have never been greater than now. But the excuses have never been easier either. The vast majority of studios and yogapreneurs aren't even employing the standard best practices for wellness business, let alone anything that would be considered cutting edge. Even the most fundamental things, like how to sell a yoga pass, are more often than not, sub-optimal. It's our obligation as yoga teachers and studio owners to proliferate the power of our product and actually practice our yoga. If yoga is everything, then it must include the best business practices as well.
BIO
As a former junior hockey player, who could barely touch his knees let alone his toes, I was dragged kicking and screaming to my first Bikram yoga class by my wife, Jenna. Despite growing up in a yoga family — my Dad is an Ashtanga and Yin teacher — my past yoga experiences consisted of either just watching the class or being suspended by a strap, a bolster, six blocks and a blanket while everyone else could do all the postures. With hot yoga, for the first time I felt like I could actually move! In 2010 with plans to open a yoga studio and Jenna pregnant, I thought I'd better go to teacher training. While we owned Bikram Yoga Red Deer, I coached and organized several yoga asana championships and competed at the international level. After working with numerous business coaches and developing staff mentorship, sales training, and marketing programs at our studio, I started getting approached by other yoga studio owners looking for help with their business. When we decided to sell our studio (as well as our house and everything else we owned) to travel full time with our kids, I got even deeper into the wellness industry by teaching and doing business consulting for yoga studios on the road through Nomad Business Coaching. I found that the industry has changed so much in recent years and studios with a great product are struggling unnecessarily. In 2016 I became a certified Mindbody consultant, created the first online course for yoga business called The Foundation, and launched our powerful onsite Studio Overhaul program. While business coaching with studio owners all over the world, it has been awesome to see them spread yoga to more students and get the compensation they deserve.