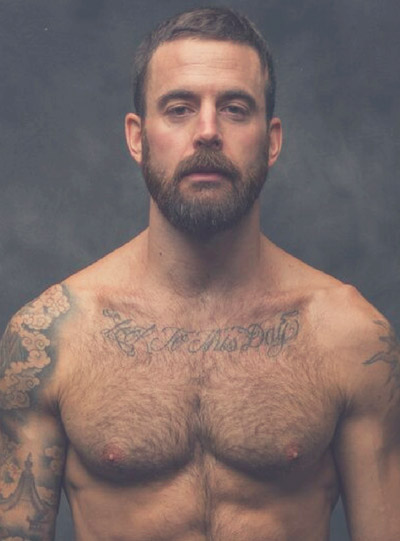 Q+A with Ben
-Where are you based out of? town + studio?
My retreat center, LUXYOGA in the South of France for about half of the year and the rest is either on the road teaching workshops or in NYC.
-When + where did you first stumble into hot yoga?
The old Bikram Headquarters on La Cienega in LA around 2001.
-Do you remember your first class? Did someone bring you or did you venture out on your own?
I had started Kundalini yoga because I was interested in esoteric ideas of connection. I also had pretty bad back issues and I think read an article online about Bikram yoga, so I showed up to class in my typical gym/Kundalini outfit of sweatpants and thermal long-sleeve with a t-shirt on top. I dragged my rented mat into the room and no joke, four people immediately picked up their mats and moved away from me. I had dinner plans after class and spent some time in the parking lot figuring out if I should take off my pants to drive to my friend's house or sit in my sweatpants-pond.
-What made you go to teacher training?
A confluence of events and a belief: I wasn't satisfied with my work-life, I was healing from the suicide of someone I loved, and I thought I'd be a yoga master by the end of the program.
-What's your favorite thing(s) about teaching?
Being of service gets me out of the self-mortification dialogue – it's transcendent in that way. I try to help, I think it works for some people, and it ends up helping me.
-What's the funniest thing that's ever happened to you while you were practicing? teaching?
Ask Craig Villani about the class he almost missed in Union Square around 2008. That is the funniest thing that has ever happened in yoga, period. My funniest teaching memory also involves Craig and unfortunately may reveal my true level of maturity. I was teaching afternoon class during a retreat at LUX. One of our guests, a lovely and elegant slightly older lady may have hit the buffet a little hard and was audibly removing wind at an impressively consistent rhythm. As nature persisted, she began emitting a little "ooh" with each release. Craig was practicing, and I told myself, "do not look at Craig" – but I couldn't help it, I wanted to share this amazing moment with my brother. So I look at him during bow posture and he is literally shaking while kicking, trying not to laugh. I lost it and had to go into the utility closet to pretend to fix the heat.
-Do you have other (non-hot yoga) passions?
I like doing things that fit with my online persona. I am also passionate about un-pasteurized dairy products.
-If money wasn't an issue, what would you spend the next year of your life doing?
What I am doing now but with more of the energy devoted to the part of the work that I feel is the actual work, though ironically, the other stuff is the work – you follow?
BIO
Benjamin recovered from two herniated discs, five knee surgeries and the traumatic suicide of a loved one through consistent yoga practice. A perpetual student and thusly a deeply knowledgeable teacher, Benjamin is an international mentor cited as a "master" by Yoga Journal (Feb, 2017) and the first of "fifteen teachers to study with now." (Sept, 2017) He is often featured in the media for his reflections on yoga in the modern world. In 2007, Benjamin founded LUXYOGA, a wellness and lifestyle experience in the South of France repeatedly named the world's premier yoga retreat. Benjamin leads seminars worldwide, facilitates teacher development and will lead his next teacher training September 2018 at LUXYOGA South of France.
Benjamin has studied with the masters to earn multiple certifications across diverse systems. He graduated with a Bachelor of Arts degree from UCLA, staffed the Bikram Yoga College of India Teacher Training after receiving his certification, completed the Dharma Mittra Yoga 500 hour Training, two Forrest Yoga Advanced Trainings, and continues his studies with Abbie Galvin of Katonah yoga as well as in Ayurveda, anatomy, bodywork, and energy healing. He believes that to teach yoga is to extend physical empathy beyond one's own body and now travels the world inspired to help students practice yoga in healing way. Benjamin draws upon empathy, experience, and his diverse studies of Forrest, Katonah, Dharma Mittra, Astanga and Bikram Yoga as well as meditation and movement modalities including the Ido Portal Method to integrate tradition with the advancements of broader movement culture and simply teach what works. His ability to connect the postures to your body and the practice to your life in a practical and poetic way empowers students to appreciate the present and develop an action plan to progress. He recognizes that the students do their own work, and hopes to help them turn effort into grace.