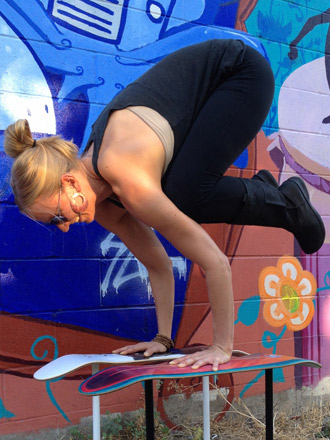 Q+A with Jessica
Where are you based out of? town + studio?
Eugene, OR – Sweaty Ganesh Yoga
When + where did you first stumble into hot yoga?
I took my first class at Bikram Yoga Salt Lake City in Sugarhouse back in 2005. I fell in love with it immediately!
Do you remember your first class? Did someone bring you or did you venture out on your own?
Yes absolutely! I went for the first time with my good friend Carrie who had done Bikram yoga before and loved it. I remember how difficult it was, and I remember looking around in awe at everyone who seemed so calm while they were doing amazing, challenging things with their body, all in that crazy hot room. I wanted to understand how they were doing that and so I decided to keep coming back again and again. And it's funny, although I was initially drawn to the physicality of the practice and the practitioners who could keep their calm while doing it, the reasons I kept going really started to expand and change over time. I realized I felt more like myself, I was less anxious and depressed, and I had a few epiphanies about the ways in which I was "in my own way" in life, which really started to shift things for me. It was life changing.
What made you go to teacher training?
I wanted the experience of the intensity of teacher training, and I wanted to learn how to share this practice with others and step into a new role. Little did I know what it would lead to down the line – I have owned a studio for the last 5 years and I also run a teacher training program of my own. My initial teacher training was such a springboard for life.
What's your favorite thing(s) about teaching?
Hands down, watching students grow, open up, become more authentic, find a moment of stillness, and do things with their bodies that they never thought they would be capable of doing. I will never tire of witnessing that type of expansion. It's more touching and more rewarding than any other "job" I could imagine.
What's the funniest thing that's ever happened to you while you were practicing? teaching?
Hmmmm, well aside from almost falling off the podium a couple of times and tripping over student water bottles, I had a moment of verbal dyslexia once when I tried to ask a student Shelby to sit down further in awkward pose…and instead I told Selby to "s*** down". I couldn't stop laughing after that one!
Do you have other (non-hot yoga) passions?
I love gardening, dancing, hiking, snowboarding, backpacking, swimming in super cold water, and really anything adventurous and outdoorsy! I would spend all day moving around if I could 🙂
If money wasn't an issue, what would you spend the next year of your life doing?
Oh gosh, in all honesty I absolutely love my studio community and I love running teacher training, so I would spend a large amount of time at my studio teaching and training new teachers. I would also probably travel a whole lot more, spend time exploring other countries and cultures, hang out on the beach, and study with other teachers. I've always wanted to work with Ana Forrest.
Jessica is the owner of Sweaty Ganesh Yoga in Eugene, Oregon