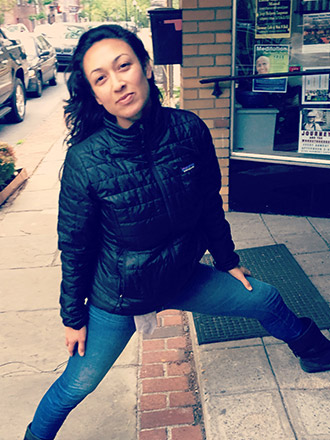 Where are you based out of? town + studio?
The Hot Spot Yoga in Kingston, NY
When + where did you first stumble into hot yoga?
2001 in San Francisco, CA
Do you remember your first class? Did someone bring you or did you venture out on your own?
My mom brought me to Bikram yoga after I graduated from college and was feeling very lost. It continues to save me in endless ways.
What made you go to teacher training?
A fellow student turned to me before class one day and asked if I had thought about teacher training. It made sense as a way to deepen my practice so I decided to go.
What's your favorite thing(s) about teaching?
Watching students transform and become community.
What's the funniest thing that's ever happened to you while you were practicing? teaching?
Mostly it has to do with see through clothing either on me or the students.
Do you have other (non-hot yoga) passions?
Fresh juice and superfoods.
If money wasn't an issue, what would you spend the next year of your life doing?
Visiting hot yoga studios around the world.
BIO
Shulin attended Bikram's teacher training in 2003 in Beverly Hills, CA and taught full-time in the San Francisco Bay Area for three years. She later trained in vinyasa and a restorative style called Svaroopa. Shulin currently teaches Bikram's basic and advanced classes at The Hot Spot Yoga in Kingston, NY. When not in the hot room, Shulin works at Omega Institute for Holistic Studies as Community Life Manager, integrating yoga and life coaching to support the staff in their practice of compassionate service. See what she's up to at shulinyoga.com or email her at shulin@shulinyoga.com.