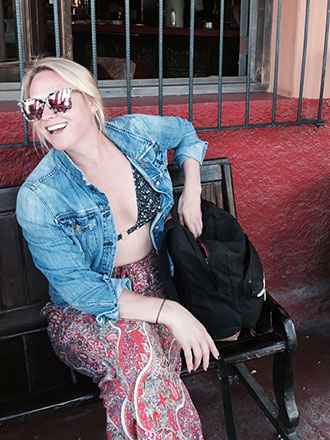 -Where are you based out of? town + studio?
Chicago, IL. 105F. We have three super cool studios in three super cool Chi-town hoods: Lincoln Park, Wicker Park, and South Loop.
-When + where did you first stumble into hot yoga?
I took my first hot yoga class at 105F's Lincoln Park studio in November of 2007. I had just run my fourth marathon and my body hurt. It was my first yoga class of any kind.
-Do you remember your first class? Did someone bring you or did you venture out on your own?
After 20+ years of playing competitive soccer, 5+ years of wakeboarding, 4 full marathons, and 2 total ankle reconstructions, I realized that I needed to stop abusing my joints and began to search for a healthier, less impactful alternative for my body that was equally as intense and challenging as the other sports and activities I was involved in. A friend said to me, "Kiley, I know you, try hot yoga." Though I struggled through my first class, I remember walking out of the hot room that day thinking, "hmmmm, I just may have to do that for the rest of my life".
I remember everything. I remember who my teacher was (Conni!), what I was wearing (full marathon running garb!), my spot (back left corner by the windows!), and which posture I first hunched over and rested my hands on my knees (eagle!).
-What made you go to teacher training?
After a good number of years grinding it out in the corporate world as a management consultant for a Big Four firm, it became clear that I wanted and needed to do something different with my professional life. To me, no money was worth the stress and anxiety that came along with my corporate gig. I wanted to be happy. I wanted to help people improve their health and well-being. I wanted to do something that I truly cared about, truly loved, and was truly passionate about. In the spring of 2011, I attended Teacher Training, and one year after that I bid adieu to my business suit/shoe wearing job in order to teach full time. In 2014, I escalated the adventure and taught all over Australia and Asia for the better part of 14 months. And now, I'm so grateful that things have kind of come full circle as I'm now doing some business-ey type stuff (I organize and plan all of 105F's Teacher Trainings, retreats, workshops, and special events) in an industry and world that I love.
-What's your favorite thing(s) about teaching?
I believe that everyone who comes to practice wants to improve themselves in one way or another and I'm so inspired and honored to be a part of that process. I'm also very grateful for all of the wonderful people (students, fellow teachers, studio owners) from all over the world that I've been able to meet and get to know along the way. Our yoga world really is a good one.
-Do you have other (non-hot yoga) passions?
Exploring new places and meeting new people. Enjoying my loved ones. Laughing till my belly aches. Chasing sunsets. Alpaca. Live music (bonus if a cold beer is in hand). Procuring amazing overalls.
-If money wasn't an issue, what would you spend the next year of your life doing?
Oh the places I'd go and the things I'd learn. I'd learn to make pasta in Italy. I'd learn to speak Spanish in Spain. I'd learn to tango in Argentina. I'd scuba dive the Great Barrier Reef. I'd climb Machu Picchu. I'd explore India. The list goes on! And of course, I'd practice and study some major yoga along the way!