Wanderlusters (an interview with the Nomad Yoga Family)
Posted on
October 26, 2018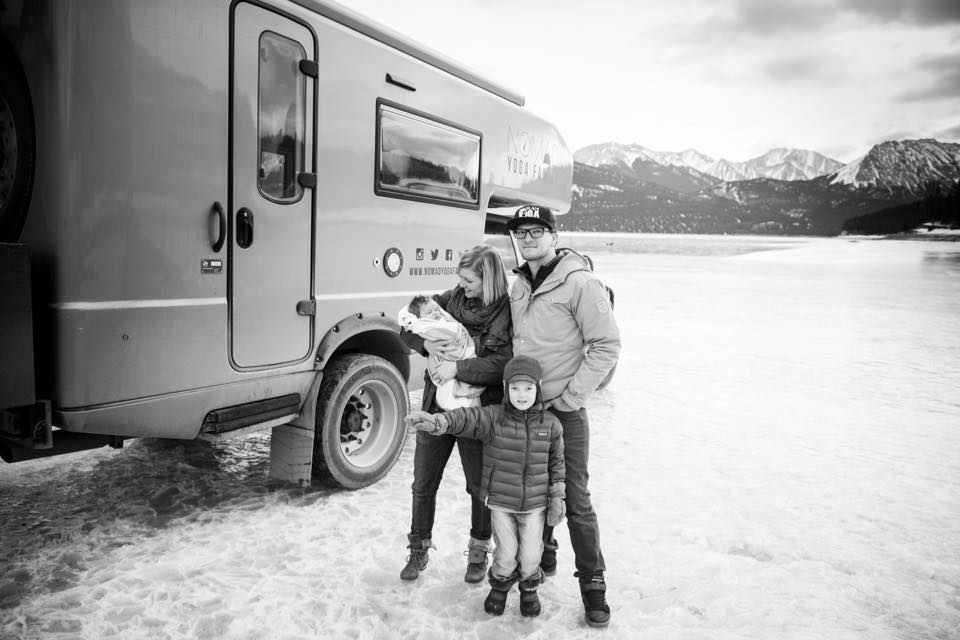 The Nomad Yoga Family wows us at each turn. Josh Biro and Jenna Rosene are an amazing couple from Canada who have traveled around the world in their Earthroamer with their 2 kids, teaching yoga and building their coaching business. In this interview, they share some tips ranging from traveling with kids to what it takes to run a successful yoga studio.
You guys call yourselves the Nomad Yoga Family. Most parents I know, myself included, can hardly get out the door with their kids to go just about anywhere, but you guys seem to have mastered the balance of travel and parenting. What advice do you have for parents out there who want to travel nomadically with their spouses and children?
Just commit. You don't have to change what you want to do in life because you have kids and a family. But be open to adjusting the pace or exactly how you execute things. Kids are actually excellent travelers. They force us adults to take more time along the journey. Sometimes it's extra stops along the road to use the bathroom, go for a hike, play at a park, or get a snack. And these unplanned stops are sometimes in the most incredible, unexpected places! Kids are curious and open about everything, so we find ourselves taking more time to consider the more magical and mysterious aspects of life that we might otherwise gloss over when we travel and explore as a family. 
Beautiful perspective, and so true. What are some of your essentials when it comes to travel?
Full time travel has made us super aware of all the superfluous stuff that we accumulate in homes that we can really do without. That being said, we've also realized what, for us, make life a lot more enjoyable:
-a comfy bed (it doesn't matter how amazing the view/ocean/mountain/whatever is, if you have a bad sleep, everything sucks)
-solar power
-clean drinking water (something we take for granted!)
-Vitamix (it takes up 2 cupboards in our camper, but it's totally worth it!)
-baby-wearing/kid-carrying contraption (we've loved our Tula and Osprey hiking backpack)
-yoga mats (of course)
-surfboards 
-books and art supplies for the kids
-audio books for driving (we're almost through the Harry Potter series)
-iPhone and laptop for work on the road (internet also helps!)
-Birkenstocks and Blundstones (pretty much the only footwear you need)
You guys make me wanna drop everything, grab my kid, and tag along. What benefits do you see your children receiving from all the travel that you do?
Traveling all over Canada, USA, Mexico and Central America, our kids have experienced a lot of different languages, landscapes, cultures, homes, lifestyles, yoga studios, and schooling techniques. It seems like they don't have just one "comfort zone." They have a strong sense of who they are and know that they belong in any place or situation. Living in Sayulita, Mexico, our kids are now becoming fluent in Spanish. They are also exposed to so many different activities that they wouldn't have access to in just one place: from skating and skiing in Canada, to hiking and rock climbing in Colorado and Utah, to surfing and playing soccer on the beach here in Mexico, just to name a few. Our kids have learned to make connections with others quickly. And while the scenery and people and language are changing, our family unit stays consistent, so it's allowed us to spend more time together as a family and become a really tight knit unit. 
These are amazing gifts to grow up experiencing in the times we live in! What would you say is the most challenging aspect of a Nomadic lifestyle and how does your yoga practice help?
Two things come to mind. 
First, the condensed living space, at least in our Earthroamer overland RV. It can feel a bit like a pressure cooker at times, as we can literally be stepping on each other's toes, and it's hard not to let one person's bad mood affect the rest of the family. Our yoga practice has taught us the importance of taking personal time — doing some breathing, getting in a practice, or even just going for a walk or sitting on the beach to mediate — so we can be the best version of ourselves and help the other family members do the same. 
Second, sometimes it feels like we have too many choices. The sense of freedom of being able to live, work, and teach yoga anywhere is incredible. But at the same time, it can be difficult to decide where to go next, how much time to spend in one place, and how to create a rhythm between work and family time. Our yoga practice has taught us to listen to our intuition, and we've found that the right opportunities always present themselves, and that the best choice for us does become clear, when we're really attuned and aware together. 
Listening to intuituion is such a powerful practice. You guys previously owned a yoga studio, and have recently opened up a hotel. What parallels have you experienced in running these 2 businesses?
We built and owned our yoga studio in Canada for 5 years, helped build a few others, and then sold our studio to travel. While living nomadically for 3 years, and teaching at hundreds of studios, we started business coaching online and onsite at studios. Nomad Business Coaching is currently our main focus. But we've also recently taken on a surf hotel in Sayulita as another business adventure! There are a lot of similarities between yoga businesses and running the micro hotel. In today's business climate, it's super important to know what your message is, have all aspects of the business be congruent with that core message, clearly communicate your message to your target market, and when you have a client choose your business you must deliver on the experience you've promised. All aspects of marketing are important, but positive, reviews, referrals, and word of mouth are huge. 
Couldn't agree more. On that end, what advice do you have for yoga studio owners who are struggling?
Ideas are shit. Launching is everything.
Learn to self-audit.
Excuses are for amateurs.
The wellness industry is changing at such a rapid rate. Studio owners are passionate and hard-working, but sometimes it can be difficult frm them to clearly see where they need to prioritize their efforts to effect major change in their business. Reach out and ask for help. But don't go looking for some magic formula or one size fits all solution. Studio owners need someone in their corner who can educate them on the current best practices in the industry (which are always changing), especially marketing their incredible product (the yoga) in cutting edge ways, and ensuring they are curating the experience of their students and delivering on their message in every facet of their business. When we work with owners, we take an objective look at where the business currently is at and set goals. We motivate and empower owners to take action on the major ideas and strategies that will create the biggest positive growth in their business, and then keep them accountable to ensure they are fully executing actionable items so the goals are reached. We want studio owners to feel excited about running the very best version of their business, and know they are reaching the most people possible with their amazing product.
I love this, especially on helping studio owners deliver their message in every area of their business. What current projects are you cooking up?
We always have a lot on the go! 
Nomad Business Coaching will soon be launching a totally new and first of its kind program for yogapreneurs that will allow us to reach even more studio owners and yoga teachers. It will focus on our extensive video and template resource library, our amazing online studio owners discussion board, regularly scheduled live videos, and also have the option for one-on-one sessions with Josh.
In Sayulita, we'll be continuing to teach yoga and are excited to be helping our friends plan retreats and teacher trainings! (Bikram Yoga East Austin retreat in February and Yoga Factory Vinyasa Teacher Training in March at Villas Sayulita.) We're also busy with loads of projects at the Sayulita Surf Hotel. One of our biggest projects will be creating a vision of what's next for Nomad Yoga Family, stay in Sayulita longer or get back on the road?
Well, you guys certainly keep us on our toes. Thanks so much for all you do! You're incredibly inspiring. 
*For all you Studio Owners coming to this year's One Fire Fest: Josh is offering 1-on-1 COMPLIMENTARY Growth Strategy Sessions (valued at $300). Click here to book your session.
interview by Mishel Ixchel